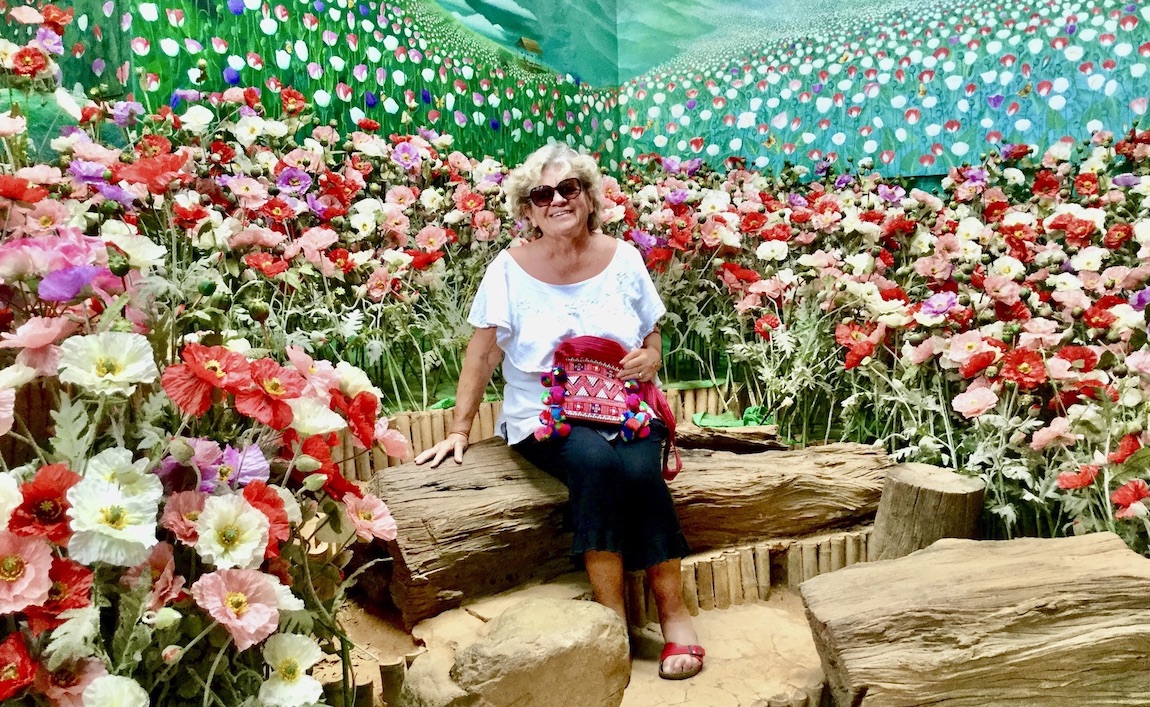 Opium dens, fascinating hill tribes, remarkable temples and flaming foot massages in the jungle. These are just a few of my memories of a recent visit to Chiang Rai and environs in Northern Thailand.
A bit of history and geography: In the 13th century Chiang Rai was the capital of the Lanna (means "a thousand rice fields") Kingdom. However, for a long time it could have been called "land of a thousand poppy fields." The region's involvement in the lucrative opium trade began in the late 19th century when migrating hill tribes from China and Tibet began poppy cultivation.  About 60 km north of the city of Chiang Rai is the famed Golden Triangle where the borders of Thailand, Laos and Myanmar meet along the Mekong River. 
Although less touristy than Chiang Mai (about 190 km. south), Chiang Rai is well worth a visit.
The "You Only Live Once" Splurge List 
Hillary Stayed Here
Sitting on an island in the Mae Kok River, the The Riverie by Katathani is a relaxing retreat just a few minutes from central Chiang Rai. Hillary Clinton stayed here some years ago on an official visit. Cool off in the largest pool in Northern Thailand and enjoy cocktails overlooking the city from the rooftop bar. 
Down by the River
Chivit Thamma Da, an intimate café and bistro, sits prettily on the Kok River. The menu offers tastes from around the world, including duck eggs Benedict, spicy soups, burgers, Vietnamese pork and various takes on spaghetti sauces. Before my meal, I sampled a gin flight featuring four different gins, Fever Tree tonic and unique garnish pairings.
Stomping and Pounding Nerve Massages
This is more of a splurge to the senses than the wallet. Deep in the middle of tea plantations and jungles near Ban Nang Lae outside of Chiang Rai, a monk whose nickname is Tu May, is teaching his apprentices Lanna healing arts using local herbs and ancient techniques. His organization is part of Hong Hom Phaya, which roughly translated means "The Local Community Leaning Centre." 
My first treatment involved having a fellow walk all over me and his feet were on fire! To perform this massage, called yam kang, my therapist first dipped his foot is a mixture of ginger root and sesame oil and then heated his foot on an iron plate set over a hibachi of flaming coals. As his deft toes massaged my legs and lower back I felt the benefits of the deep heat. Whilst my lower body was getting the "stomping" treatment, another healer proceeded to tap my upper spine and shoulders with a rosewood hammer and chisel. The vibrations are supposed to iron out kinks and relieve muscle tension in this technique called tok-sen (pounding the nerves). 
A couple of hours later, a very mellow me shared sweet pineapple wedges and herbal tea with the monk and his crew and offered a generous donation.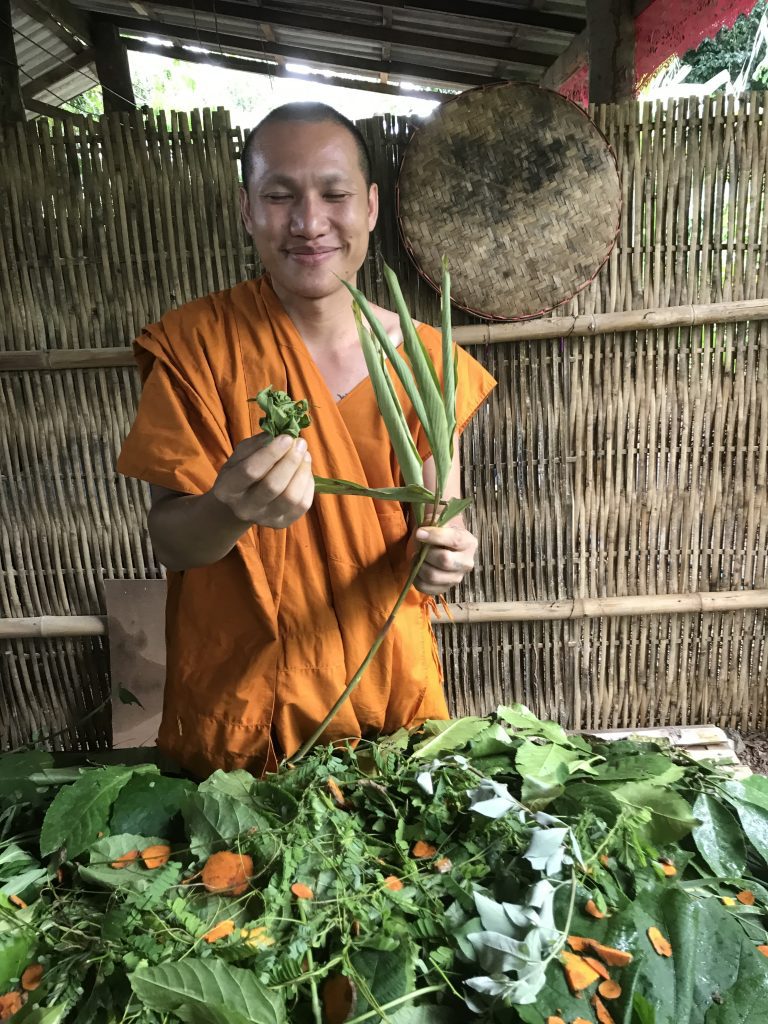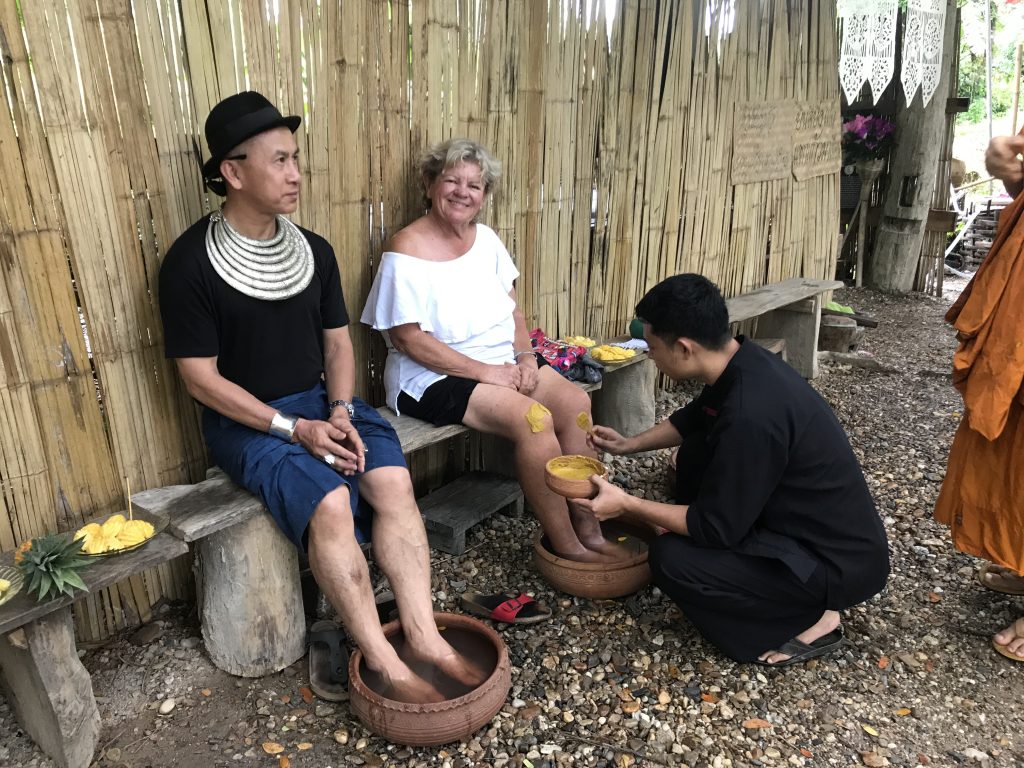 The "Cheap Thrills" Save List
The Rubber Triangle
About halfway between Chiang Mai and Chiang Rai, the ideal place to stop for a snack is Cabbages and Condoms in Wiang Pa Pao. You'll know you've arrived when you see the sign, "You have arrived at the Rubber Triangle." No this is not a rubber plantation; it's a branch of a small franchise with restaurants also in Bangkok and Pattaya, with profits going toward providing education, HIV/AIDS prevention and other basic needs for the poor in rural Thailand. Instead of after dinner mints, visitors are welcome to help themselves to free condoms. 
Two Opium Dens
You'll discover everything you ever wanted to know about opium in two museums, both located in The Golden Triangle. In the town of Sop, the privately owned House of Opium was founded by Patcharee Srimatyakul in 1990. Born in this region, she had a passion for collecting opium paraphernalia. The exhibits display tools and objects used to plant, harvest, trade and smoke opium, including pipes, scales, weights, knives and scrapers. The bulk of the opium cultivation was done by hill tribes in the Golden Triangle, as the drug trade offered a good source of income for farmers otherwise living it poverty. The museum provides interesting information and old photographs related to the production and consumption of opium, and the drug's impact on the lives of the hill tribe people. 
Another larger Hall of Opium was instigated by Her Royal Highness, the Princess Mother, to help reduce the demand for and use of drugs by education. Exhibitions cover the history of poppy cultivation, medical marvels, opium bi-products such as morphine and heroin, examples of rich and famous who were addicted to narcotics, crime and corruption and explanations of the Opium Wars between China and Britain. The last section of the museum, called Hall of Reflection, is a place where visitors can contemplate what they've learned. The government of Thailand has introduced various Royal Projects to introduce the hill tribe peoples to alternative income crops, such as coffee, tea and macadamia nuts.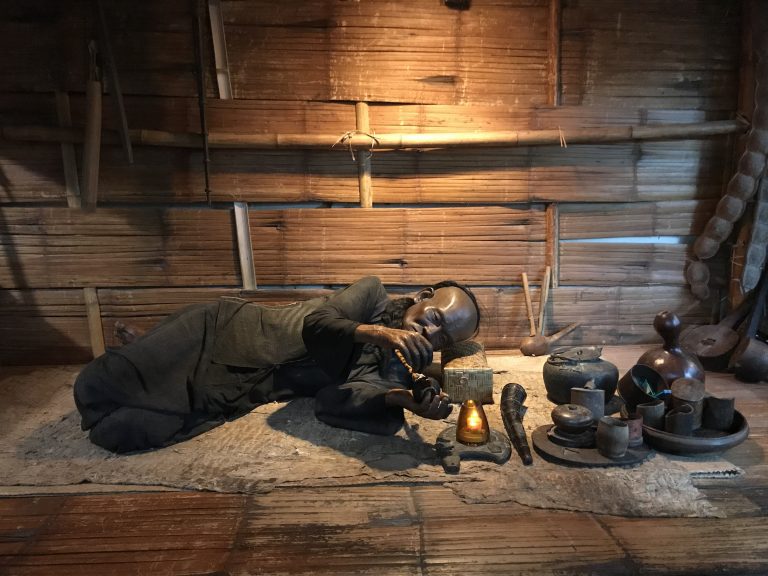 Chiang Rai's Answer to Gaudi
When my guide suggested we begin our tour of Chiang Rai with a visit to the White Temple (Wat Rong Khun), I thought "oh dear yet another temple." But truly, I was gob smacked at first sight of this masterpiece, the brainchild of entrepreneur and artist of Chiang Rai-born visual artist and painter Chalermchai Kositpipat. 
He brings an unconventional approach to temple architecture, fusing elements from his own imagination (white, not gold, as a pure colour to embody the sacredness of temples) with orthodox Buddhist teachings about heaven, hell, karma and earthly sins. You enter the main chapel via a narrow bridge that passes over a pool of beseeching hands representing suffering souls in hell. A magnificent white Buddha forms the centerpiece to the main temple. Wat Rong Khun could be compared to Antoni Gaudi's Sagrada Familia in Barcelona. When Chalermchai first conceived the idea of building the wat, he laid out a great grand plan for its design and construction but, like Gaudi's work, it will never be completed. Entrance fee is about $2. This complex also features what are arguably the planet's most ornate gold-gilted bathrooms. 
.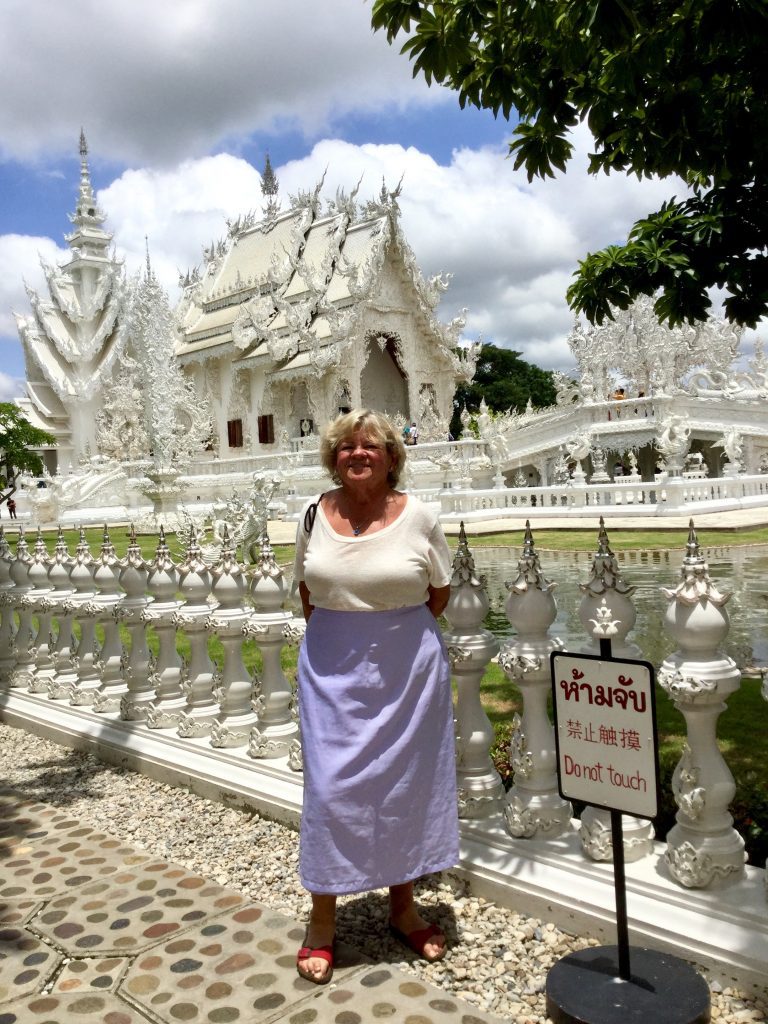 Collector's Items
Mr. Julasak Suriyachai, motivated by his concern of losing the heritage of the ancient northern Lanna Kingdom, began collecting rare art and displaying it in his private home in central Chiang Rai. Items in his Oub Kham Museum include king's thrones, ornate costumes worn and made by ancient tribal peoples, various Buddha images and much more. Guided tours cost about $15. Prepare to be dazzled.
Night Bazaar and Food Court
Smack in the city centre, near the bus terminal and a five-minute walk from the clock tower is the outdoor Night Bazaar. Every evening from dusk to about midnight, you'll find stalls filled with Thai souvenirs, hill tribe handicrafts, silk scarves and more. 
If you'd rather eat than shop, visit the Night Bazaar food court for a cheap meal or snack. \
Soup Kitchen
Most aficionados of Thai food know and love tom yam soup, but northern Thailand's claim to fame is khao soi. Believed to be Burmese-inspired, khao soi consists of soft egg noodles and slowly simmered chicken in a mild, creamy, coconut curry broth. It is typically accompanied by a side of chopped red onions, pickled cabbage and a slice of lime.
Less than $2 per yummy bowl at Phor Jai in central Chiang Rai.