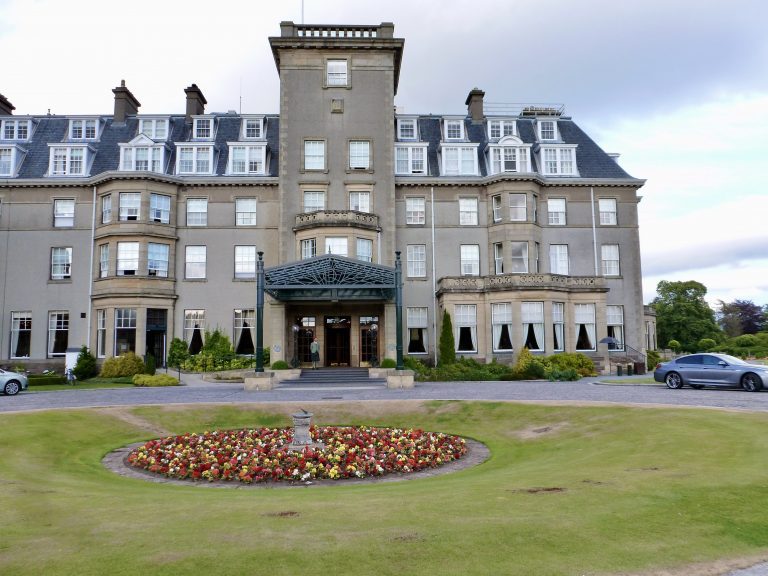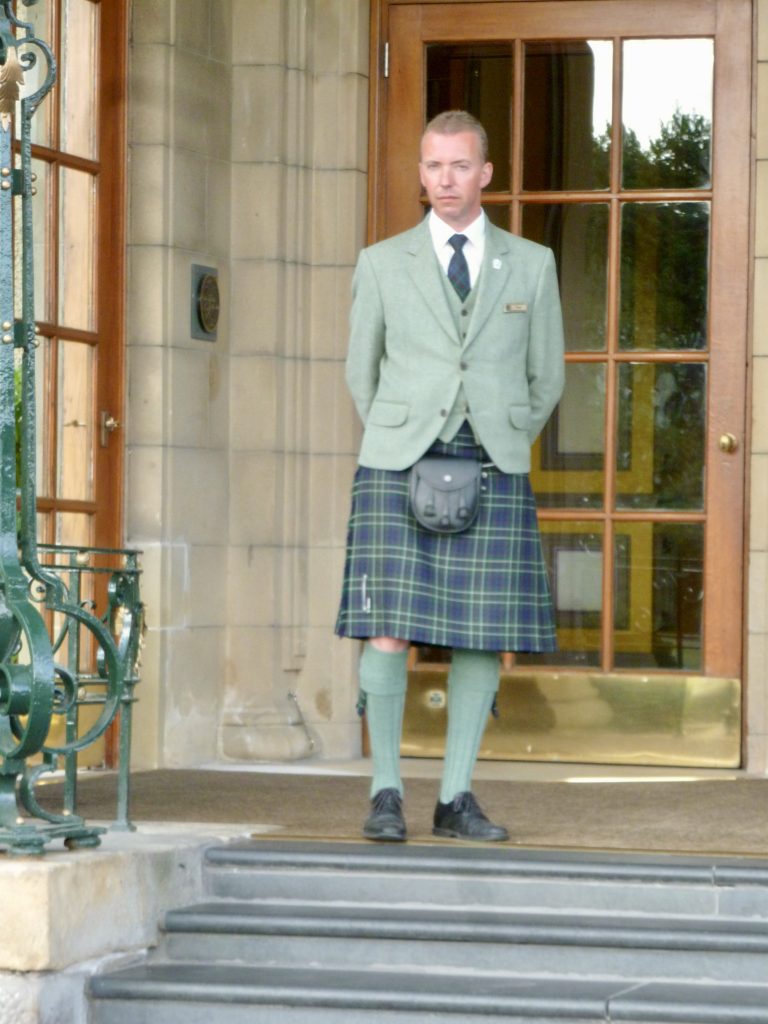 "If heaven is as good as this, I sure hope they have some tee times left," said golf pro Lee Trevino after a round a Gleneagles, located in Perthshire, Scotland. Dubbed "the Palace in the Glenns", Gleneagles celebrated its 90th anniversary in 2014, which also coincided with it also being the site of that year's Ryder Cup.  
The golf experience at Gleneagles is second to none. It was named "Best Golf Resort in the World" in the 2013 Daily Telegraph Ultratravel Awards. James Braid, five-time winner of The Open, designed the King's and Queen's courses and Jack Nicklaus created the PGA Centenary Course (formerly named the Monarchs) where the 2014 Ryder Cup was played.
The King's Course, opened in 1919, has challenged everyone from the aristocracy to professionals to high handicappers. The scenery is grand with rock-faced mountains to the south and the peaks of the Trossachs and Ben Vorlich to the west. Short and feisty (less than 6,000 yards), the Queen's Course has captivated everyone from pros Greg Norman and Tom Watson to actor Sean Connery and astronaut Alan Shepard with its beauty. All of the regal fairways have pithy and evocative Scots names. The 17th on the King's, for example is "Warslin' Lea" meaning Wrestling Ground.
Last, but certainly not least, the PGA Centenary Course has been described by designer Jack Nicklaus as, "the finest parcel of land in the world I have ever been given to work with." This modern classic blends beautifully into the Scottish landscape and provides a good contrast to its neighbors.
A member of The Leading Hotels of the World, Gleneagles has expanded its facilities over the years to include a gobsmacking range of dining and diversions. Here's a sample of après golf fun and hedonism.
Breakfast of Champions
Start your day at a window side table at the resort's grand Art Deco dining room, The Strathearn. Tuck into the creamy oatmeal with Drambuie-laced raspberries and a Buck's Fizz for starters. Then choose from the bountiful buffet or classics from the menu, such as Finnan haddock and poached eggs. If some "hair of the dog" is in order, take solace with a thick steak, mushrooms, chips and a tall Bloody Mary.
Polo Anyone?
You'll start on a wooden horse working with zero handicapper and coach Thom Bell on your mallet maneuvering, eye-to-ball coordination and posture. Next you'll mount one of Bell's polo ponies for a short chukka. No previous equestrian experience is necessary but it helps not to be terrified of horses.
Bring on the Raptors
The British School of Falconry at Gleneagles offers lessons in this ancient sport. Raptors, who can fly up to 240 miles per hour, were used for hunting as far back as 2,000 BC in the Far East. In Medieval Europe, falconry became the noble sport of kings. Often the birds were used to hunt for prey to feed the soldiers. With wingspans of up to six feet, razor-sharp beaks, powerful talons and eyes "like a hawk," it's thrilling enough to have such a powerful "terminator" at the end of your arm. The School has 24 birds including Harris Hawks, Falcons and Golden Eagles, including Nigel, a heartthrob who receives his own fan mail and Christmas cards.
Dog Day Afternoons At Gleneagles Gundog School, the first of its kind on the planet, you'll learn to handle a Labrador during a traipse along the lawns leading to Laich Loch. Introductory lessons cover basic obedience; advanced sessions have you handling your mutt on simulated pheasant flushes, rising duck and rabbit retrieves. Note: you won't be toting a gun so this is fun for the whole family. Maybe you can use this experience to train your own Fido to fetch errant Titleists.
Curry and a Wee Dram
For casual dining with great views of the King's and Queen's Courses, the Dormy Clubhouse a spicy selection of Indian dishes baked in tandoori ovens. At the adjoining alfresco Blue Bar, guests gather around the fireplace on leather sofas to enjoy fine Cuban cigars, whiskies, including Johnny Walker Blue Label or molecular cocktails. Regular patrons store their bottles on the Blue Bar wall. Attached to each vintage is a luggage tag with the owner's name.
Ready for a splurge?
Andrew Fairlie opened his eponymous restaurant at Gleneagles in 2001. The award-winning chef died recently but his Michelin starred restaurant continues his legacy. One of Fairlie's signature dishes is Scottish lobster that has been smoked slowly over Islay whisky barrels and then served with a warm lime and herb butter. For a nightcap, adjourn to the Century Bar, and raise a toast to bonnie Scotland and its fabled links.