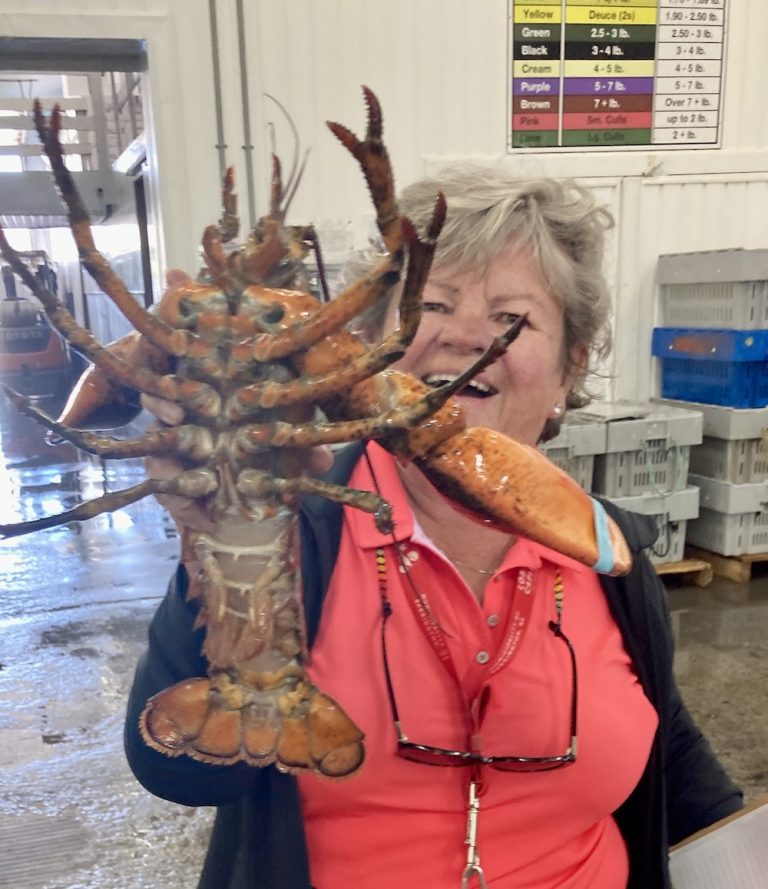 A Seafood-filled Swing through Southwestern Nova Scotia
BY ANITA DRAYCOTT
As a self-confessed golf fanatic with a passion for seafood, a recent trip to southwestern Nova Scotia exceeded all of my culinary and sporting expectations. My swing began in Digby, the self-proclaimed "Scallop Capital of the World." Our foursome stayed at the historic Digby Pines Golf Resort and Spa that opened in 1929. The stately Norman-style lodge has hosted many dignitaries and celebrities, including Babe Ruth who spent time here in the 1930s hunting, fishing and playing golf on the Digby Pines golf course.
Babe Ruth Bludgeons Digby Pines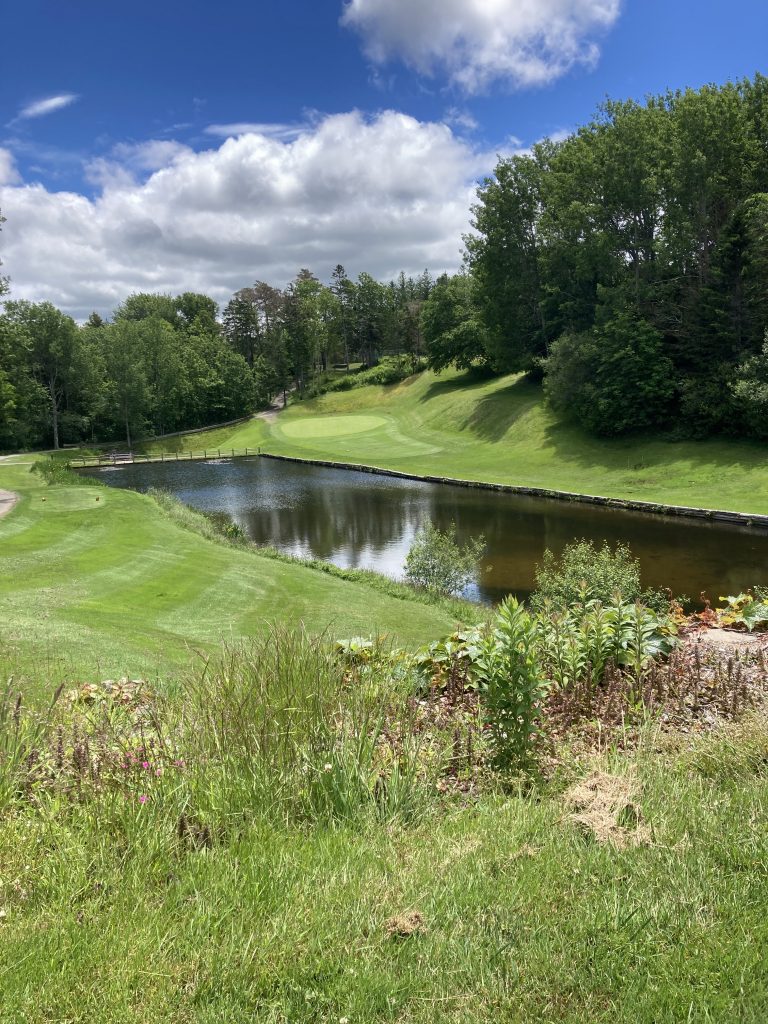 Canada's most renowned golf course architect, Stanley Thompson, designed this par-71, 18-hole masterpiece.  Some of his other triumphs include Jasper Park and Banff Springs in Alberta. Thompson's genius was in refusing to impose a course on its setting. He only moved trees and rocks if it was essential because he believed in preserving the natural beauty of the landscape. As a result, his courses unfold in sublime harmony with Mother Nature.
He also believed that courses should be pleasurable to play by golfers of a wide range of ability, and should not be designed for the scratch golfer. His key rules: do not congest opening holes; no surfeit of penal holes; let nature have its way; design for players who can't break 100 as well as those pursuing eagles; lay out a well-designed course; cut the costs of maintaining it.
Indeed, Digby Pines adheres to Thompson's principles and his talent is especially evident on the par-threes. The second, for example,  requires a heroic shot over a pretty pond; the short 16th, which rivals Jasper Park Lodge's "Bad Baby" as one of Thompson's best slight holes, offers a mere 116 yards of trouble.
Thompson also had a wry sense of humour. On the 278-yard, par-four eleventh hole he placed a bunker in the shape of a question mark on the right side of the uphill fairway. Thompson was asking golfers, "Can you drive the green?" In 1936 baseball's mighty  slugger, Babe Ruth, answered in the affirmative using the  custom-made driver that he named "the bludgeon."
After golf, we headed back to  Churchill's dining room, named after H.B. Churchill who began construction of the original  Pines hotel back in 1903. This being the Scallop Capital of the World, we began with the  "Sea cuterie" platter, a Piscean feast of sashimi, peppered tuna, scallop ceviche and cured oysters. I followed this with the classic coquilles St. Jacques where plump fresh scallops bathed in a creamy white wine sauce. Perfection.
Lobster 101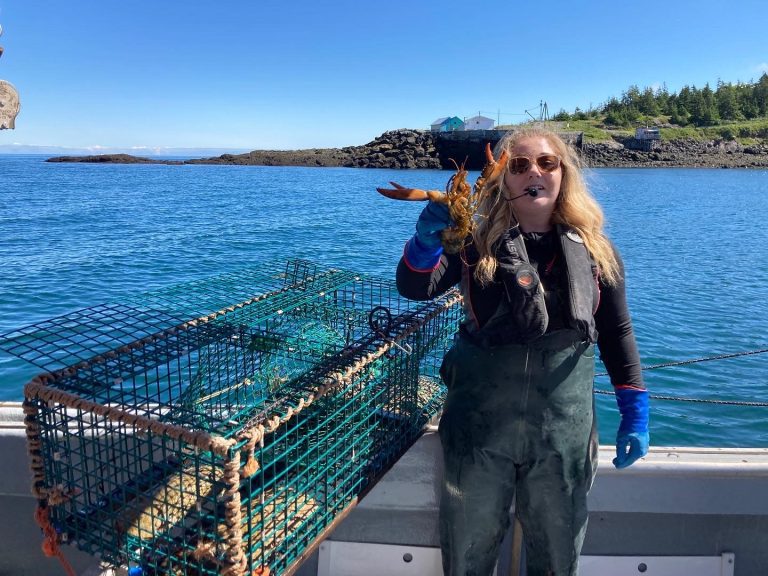 The following morning, fortified by a fantastic buffet breakfast, we headed to Digby Neck, Nova Scotia's premier eco-tourism destination on the Bay of Fundy. The waters in the mouth of the Bay of Fundy provide important feeding areas for species of seals, seabirds and fish. Hence in addition to its scallop fame, the Digby area is also known as Canada's Natural Aquarium. We took the Petit Passage short ferry ride to Tiverton where we boarded the Second Secret lobster vessel and were greeted by our guide, Tamara and captain Kyle. The couple run Bay of Fundy Scenic Lobster Tours. We sailed down St. Mary's Bay to the gravity-defying Balancing Rock (20 tonnes of volcanic rock balanced precariously on a ledge above the waves), passed sun-basking seals and the scenic Boar's Head Lighthouse while Tamara, one of the few female lobster fishers, explained how the industry works. A few tidbits: a lobster licence costs about a million dollars and on top of that a fisherman needs boat, gear and crew; bigger isn't better as smaller lobsters taste sweeter; years ago, lobster was regarded as poor people's food and was fed to prisoners. How times have changed.  The highlight was her demonstration of how to pull up a  trap that was "propped" with lobsters (the Ministry of Fisheries is very strict and does not allow them to use functioning lobster traps). We each got to try our hand at banding the crustaceans.
Rappie Pie and Acadian Joie de Vivre
After the tour we returned to the Petite Passage Café and lunched on seafood chowder brimming with lobster, scallops and haddock.
Our next stop was the Clare Golf & Country Club in the Yarmouth and Acadian Shores region. The 18-hole course presents some tough carries over water and lots of changes in elevation. The back nine is the toughest. After the round we snacked on chef Jean's deep-fried clams with homemade tartar sauce washed down with  frosty cream ale specially made for the Clare Club by the Annapolis Brewing Company.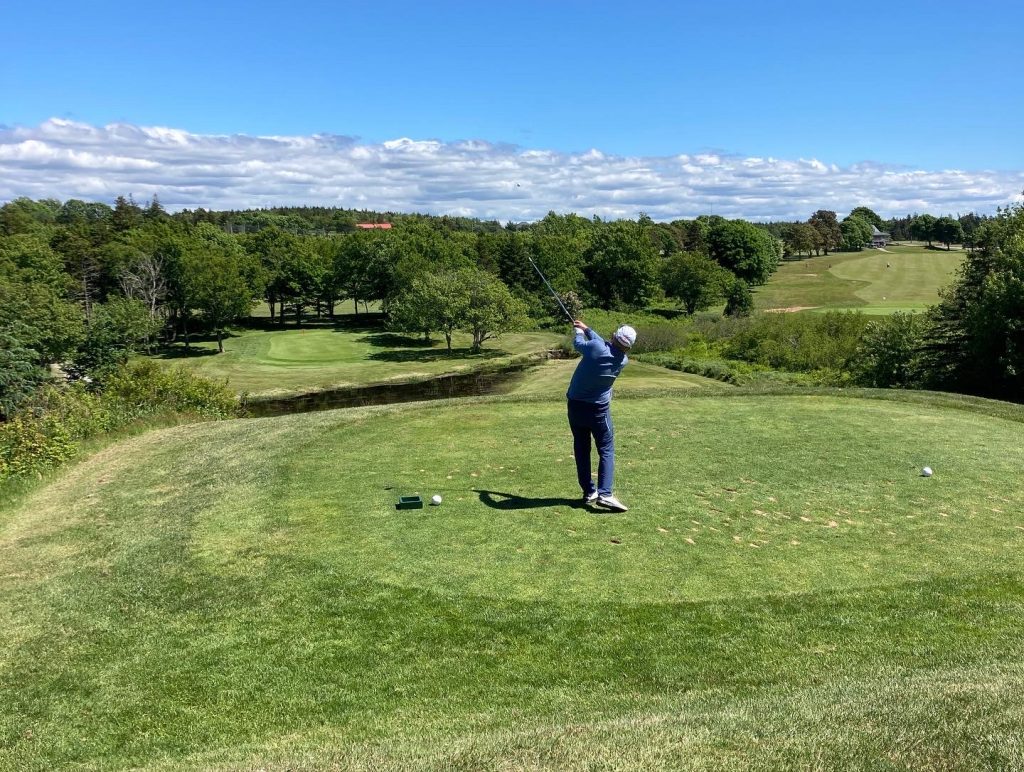 The French arrived on these shores in the 1600s in search of fertile farmland. Founded in 1604, the French colony of Acadia was ceded to Great Britain in 1713. By the time the Anglo-French struggle for North America was finally resolved, the Acadians were among its most tragic victims. During the period 1755-63, most of the Acadians were deported to the American Colonies, Great Britain, and France. In exile, the Acadians exhibited remarkable tenacity as they tried to return to Nova Scotia or else searched for new homelands. By 1763 many Acadians had made their way back to the Clare area and became fishers instead of farmers. These days their culture and joie de vivre prevails. Many homes and shops are festooned with Acadian flags.  This is home of the  Festival Acadien de Clare, the  world's oldest Acadian festival where step dancing and fiddle music go hand in hand with such Acadian dishes as rappie pie, a rib-sticking casserole made of grated potatoes and chicken. https://festivalacadiendeclare.ca/en/.
An ideal place to sample rappie pie and other local dishes is the Ecole dans L'Anse Resto sur Mer in Belliveau Cove. The former schoolhouse and boat building edifice overlooks Little Cove Lighthouse. Upstairs are two lovely suites. On Friday evenings in summer owner Pierre Boissonault organizes lobster suppers—a chance to munch and mingle with locals. For deeper Acadian Immersion, visit the Baie Acadian Interpretive Centre  on the campus of the University Sainte-Anne.  
Maritime hospitality is alive and well on these shores. At La Cuisine Robicheau in Saulnierville you will feel like you're entering gramma's house and owners Nadine and Scott will welcome you like an old friend. In summer they are well-known for hosting Acadian kitchen parties featuring the area's many talented musicians. The night we visited we dined on the restaurant's signature seafood lasagna and  creamed lobster while a local fiddler played toe-tapping tunes and his daughter  sang Acadian folksongs. Just when you think you couldn't eat another bite, Nadine will tempt you with her homemade pies. Robicheau is not licenced, but you can bring your own wine and beer.
Yarmouth's Links & Lures
The next day we hit the Yarmouth Links  one of Nova Scotia's oldest golf courses. The first nine was built in the 1800s; the second nine was completed in 1995. Expect lightning-fast greens, glimpses of the Atlantic and a historic lighthouse and a warm welcome from the local swingers.
Yarmouth is a sweet little town, its main street filled with cute shops and cafés.  Frost Park in the centre is the ideal place to enjoy a picnic or perhaps a concert in the gazebo. As a testament to the wealth accumulated here during the ship building era, Yarmouth is also home to more than 200 stately homes once owned by sea captains and ship builders. If you're interested in seeing examples of Queen Anne, Gothic Revival and Georgian architecture, stop by the Visitor Information Centre at 341 Main Street and pick up a copy of the Heritage Walking Tour brochure. The most central hotel, the Rodd Grand Yarmouth, will be undergoing a huge renovation starting in October 2022. I highly recommend the staff and service.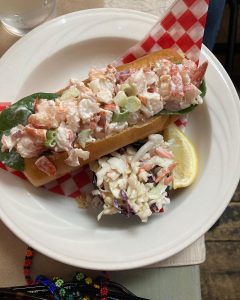 Lobster Capital of Canada
We started our exploration of southwest Nova Scotia in Digby, Scallop Capital of Canada and we ended with a visit to  Barrington, approximately 65 kilometres from Yarmouth. Barrington declares itself to be the Lobster Capital of Canada. In February, the Barrington's South Shore Lobster Crawl Festival celebrates the crustacean in many fun ways. There's a competition for what restaurant serves up the best lobster roll. Crustacean Elation is a lobster-infused beer made for the occasion by Saltbox Brewing Company. On Groundhog Day (February 2) Lucy the Lobster is set out on the beach. If she sees her shadow there will be six more weeks of winter. When she's not forecasting the weather, Lucy resides in a lobster spa in Capt. Kat's Lobster Shack.  She's become a protected local celebrity—so you'll never find her in the restaurant's award-winning lobster roll!