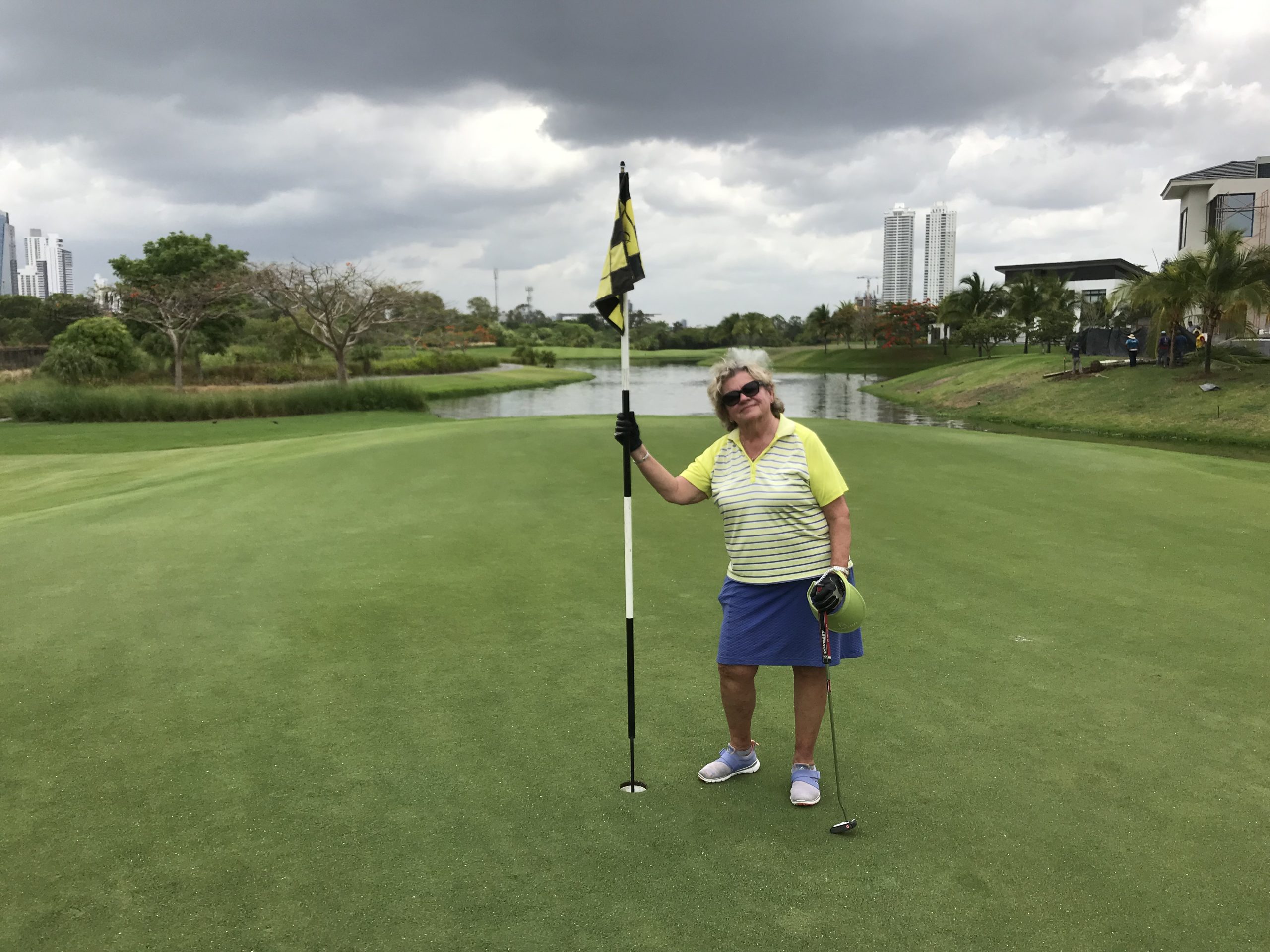 An invitation to play golf in Panama intrigued me. I've been writing about golf and travel for a long time and have pretty much "been around the tee blocks" when it comes to new destinations, but Panama was new turf.
One of the most strategically located countries in the world, Panama, between Colombia and Costa Rica, connects North and South America.  Its famous canal (often referred to as one of the Wonders of the Modern World) allows ships and cargo to move easily between the North Pacific and the Atlantic Oceans.
As with many countries in Central and South America, Panama was a former Spanish colony that began to flourish when it severed its Iberian connections in the early 19th century. It relinquished its allegiance to Colombia in 1903, and about ten years later, the U.S. completed the construction of the Panama Canal.  The Panamanian government finally took exclusive control of this vital asset in 1999.
Founded in 1922, Club de Golf de Panama was the country's first course; now there are eleven. Given a climate conducive to year-round play, safe and sound economy, hospitable locals and myriad "nineteenth hole" attractions, I predict Panama will soon be on many avid swingers' hit lists.
Our trip afforded the chance to play two courses, one in city and one at the beach. Both are run by Troon, the world's largest golf management company. 
The Santa Maria Hotel & Golf Resort
Designed by Jack Nicklaus, The Santa Maria Golf & Country Club course opened with eighteen holes in 2014. It is located halfway between Panama's Tocumen Airport and historic Panama City, so you can be teeing off shortly after you land. 
Part of a large residential development, the par-72 course is exclusive to members and guests of The Santa Maria Hotel & Golf Resort, The Luxury Collection's first property in Panama. Generous fairways and relatively flat terrain are made more challenging by Nicklaus' devious contoured greens and a plenitude of bunkers. You may spot the odd crocodile and lots of tropical birds, but this is an urban course with a fair share of skyscrapers in full view. 
Number five is a tricky par-three requiring a carry over a pond that avoids a bunker fortified green. Ten of eighteen holes have water features, many with fountains.  The back nine presents more water hazards and lusher vegetation. Eighteen, a long par-four tempts with a risk/reward choice of going for the green by carrying a long pond on the left.
The Punch Bowl, a new nine-hole putting course, set between the golf clubhouse and pool, offers fun and games for some après game bets or maybe some time with the family.
After a most enjoyable round with director of golf, Heath Henrich, I headed to The Spa at Santa Maria where I had booked a golf massage. My masseuse incorporated stretches into this deep tissue massage meant to improve flexibility. Later, our group indulged in a decadent tasting menu at The Grill House FSH & STK restaurant where Executive Chef Dani Osorio and his staff dazzled us with bespoke cocktails and signature dishes such as lobster risotto and fall-off-the-bone ribs.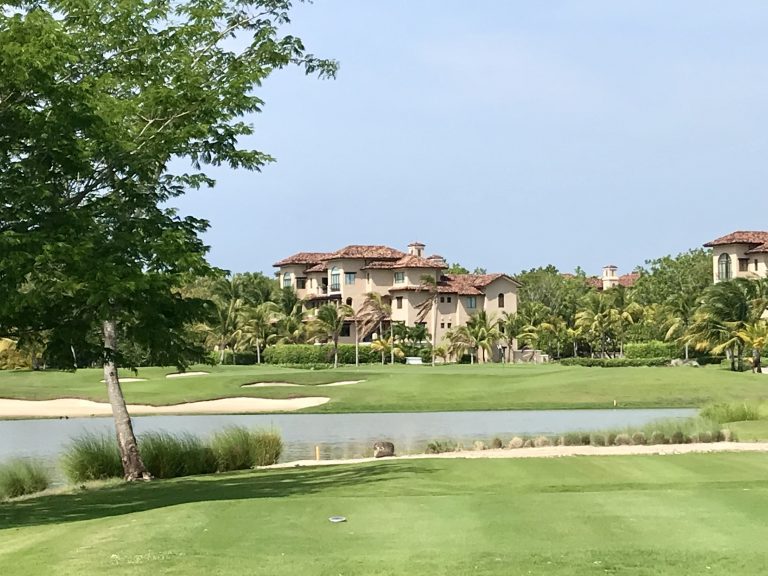 Buenaventura Golf & Beach Resort
It's about a two-hour drive from Santa Maria to the Buenaventura Golf & Beach Resort, located in Riviera Pacifica on the Pacific Coast, a popular retirement destination for Canadians and Americans. There are other golf courses nearby but the Buenaventura Golf Club, another Jack Nicklaus design, reigns supreme. In 2018 it was named "Panama's Best Golf Course" by the World Golf Awards. 
I was fortunate to play Jack's 7383-yard track with greens keeper, Remigio Gonzales and head pro, Jorge Rodriguez. The course conditions were superb, thanks to Gonzales' use of paspalum platinum grass, known for its salt and shade tolerance, quick recovery, and a brilliant dark green color. 
Designed within a seaside community, the Buenaventura course incorporates the surrounding water and lush environment within its 123 acres. With more than 110 bunkers and 300 mature Corotu trees strategically placed throughout the landscape, plus an omnipresent wind factor, the course is a fine and fair challenge. As you approach the 14th green, you'll get a glimpse of the Pacific Ocean. The signature number 16th  hole requires strategic manoeuvring between two massive Corotu trees.
For those wishing to hone their games, Buenaventura boasts the only Cobra Performance Center in Latin America. State-of-the-art technology gathers data in 3D with more than 600 images per swing and analyzes body position along with the swings path, impact location, club head speed and much more. 
The adjacent Buenaventura Golf & Beach Resort also deserves some bragging rights. Following a recent renovation, the resort is a member of Marriott's Autograph Collection. Built around a majestic 100-year-old Corotu tree, the Buenaventura incorporates classic Panamanian elements into its modern design through art, cuisine, and various activities. 
At the Palapa Bar for example, we met master mixologist Miguel Diaz who demonstrated his cocktail-making prowess by shaking up a batch of Panama Tai's, his rendition of the Mai Tai but with Mescal, passion fruit and a few other local ingredients.  The Buenaventura has several dining options. For a romantic candlelit dinner under a palapa, feast on seafood or prime beef cuts at the El Faro Beach Club. If you'd like to be entertained by a master Teppanyaki chef, head to Tai Kai Sushi & Martini.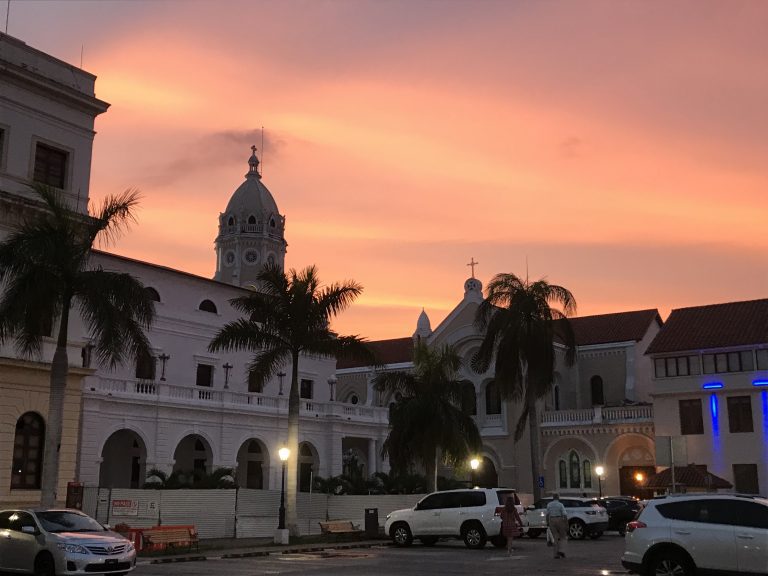 When in Panama
I came to play golf, but Panama offers myriad other attractions, not to be missed. Small (the size of South Carolina) but mighty, Panama packs a big punch. The "umbilical cord" between Central and South America, is most famous for its canal that allows you and I to receive goods from all over the planet faster, safer and cheaper than via the previous passage around the perilous Cape Horn at the tip of Chile's Terra del Fuego. Thanks to revenues from The Panama Canal, Panamanians enjoy greater prosperity than their neighbours. 
Panama boasts many unique claims to fame.  The Pan American highway starts here. Dating back to 1519, Casco Antiguo on the eastern edge of what is now Panama City was the first permanent settlement in New World. Panama's combined Caribbean and Pacific coastline totals 1,800 miles—that's a lot of beckoning beaches.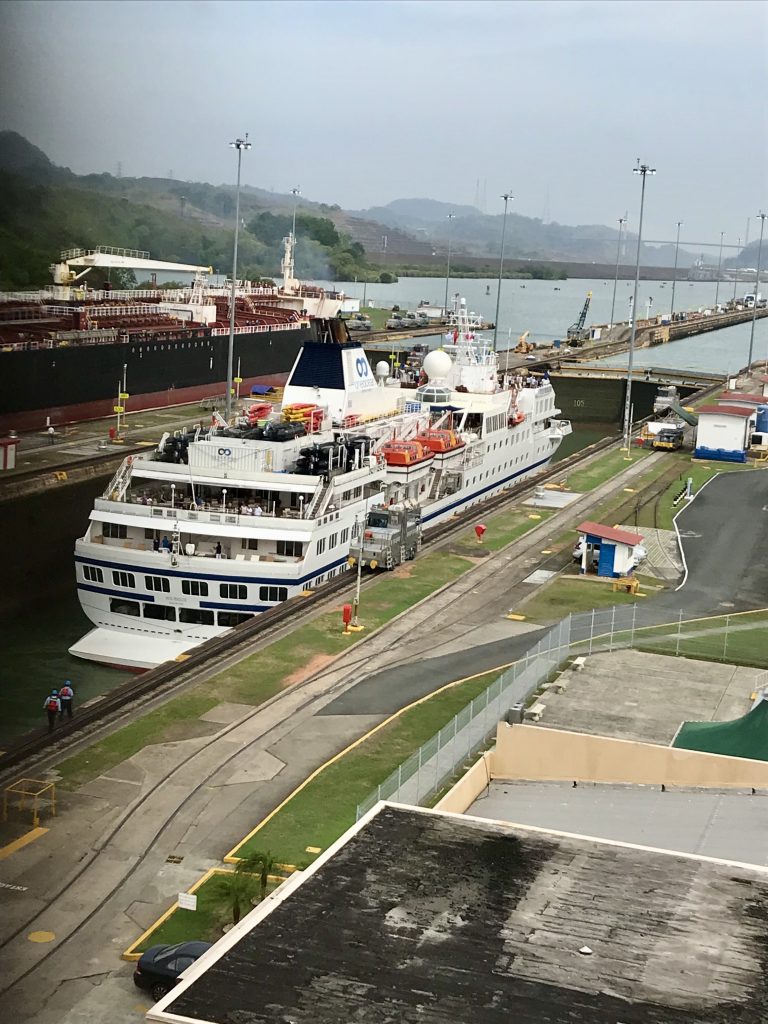 The Panama Canal is a spectacular feat of engineering—even more so for having been completed nearly 100 years ago. At the Miraflores Visitor Center, start on the observation deck where you will witness ships passing through the locks. Inside, museum exhibits explain the fascinating history and making of the canal.  Actor Morgan Freeman narrates a fascinating 3D documentary at the new IMAX Theater also at the Miraflores Visitor Center. 
Casco Viejo, the elegantly crumbling old quarter of Panama City dates to the late 1600s. Now a UNESCO Heritage Site, it is undergoing serious renovations.  Hip rooftop wine bars and coffee shops share real estate with landmarks and churches from the 1670s. 
The ideal souvenir from Panama? The eponymous straw brimmed "sombrero." The hats, actually made in Ecuador, were first sent to the Isthmus of Panama in early in the 20th century before being shipped to other parts of the world. Teddy Roosevelt made the Panama hat famous when he was photographed wearing one while visiting the construction of the Canal in 1906.  You can pay $40 and up depending on the fineness and density of the weave. A good hat is pliable enough to be rolled and packed in your suitcase and unfurled and ready for your next tee time.