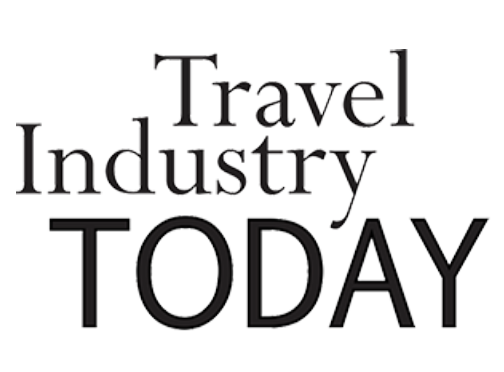 From Travel Industry Today Nov. 24, 2022
What's not to love about Paris? The City of Lights manages to live up to its every accolade around each corner. Marvel at the steel and lace of the Eiffel Tower. Breath in the aroma of freshly baked buttery croissants oozing from a bakery on the Left Bank. Spend an afternoon with the lovers at Musée Rodin. Window shop 'til you drop along the Rue du Faubourg Sainte-Honoré Visit the haunts of Ernest Hemingway and Julia Child. 
Some might opine that "budget Paris" is an oxymoron. I beg to differ. Many of the pleasures in the city that Ernest Hemingway described as "a moveable feast" are free and there are savvy ways to scrimp and save. But just because you haven't won the lottery doesn't mean you can't indulge in a few frivolous fantasies. Here's how to make the most of your euros and enjoy la vie en rose.  
(Note: all prices are approximate.)
The "cheap thrills" save list
An Unpretentious Little Hole in the Wall
Oh Purée (9 Rue Tournefort), just steps from Place Monge and Rue Mouffetard, serves up yummy seasonal dishes in a tiny rustic space. I recommend the mushroom ravioli, scallops with Jerusalem artichoke and hazelnut cheesecake. Starter, main course and dessert cost €32.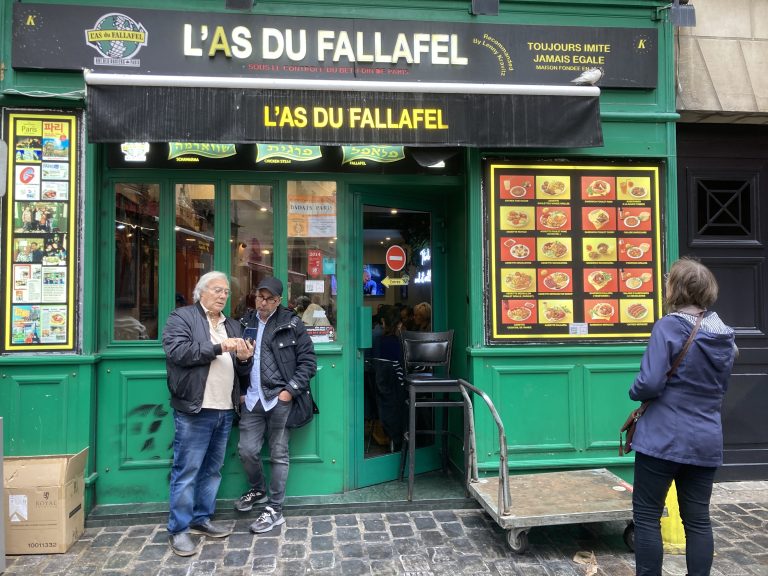 Fantastic Falafels
In the heart of the Jewish quarter of Le Marais, L'as du Fallafel (34 Rue des Rosiers) reigns as king of kosher Middle Eastern food. Folks line up for the garlicky chickpea fritters, served in a pita with hummus, pickled red cabbage, salted cucumbers, fried eggplant and just-hot-enough harissa (€9). It's so good you might contemplate becoming a vegetarian! 
My (No Longer) Secret Hotel 
Finding a well-located, quiet, commodious hotel room in Paris is easy if you're on an expense account or related to the Rockefellers. But for those of us who don't want to blow most of our Paris budgets on beds, I've found a moderately priced gem in the fifth arrondissement. Hotel des Grandes Ecoles (75, rue Cardinal Lemoine) has 51 spacious and immaculate rooms. Some, on the main level, open into the garden. What sets this apart from most Left Bank hotels is the idyllic, peaceful location down a cobblestone path leading to a Provence-style courtyard garden where guests mingle and enjoy alfresco picnics. 
Proximity to the Sorbonne explains the hotel's name. The Metro Cardinal Lemoine is two minutes away. The Luxembourg Gardens, Notre Dame Cathedral and more delights of the Latin Quarter are all nearby. Lively Rue Moufftard, two minutes away, is crammed with inexpensive restaurants, bars and cafés, plus butchers, bakers, fromageries, fruit vendors, chocolate makers and more.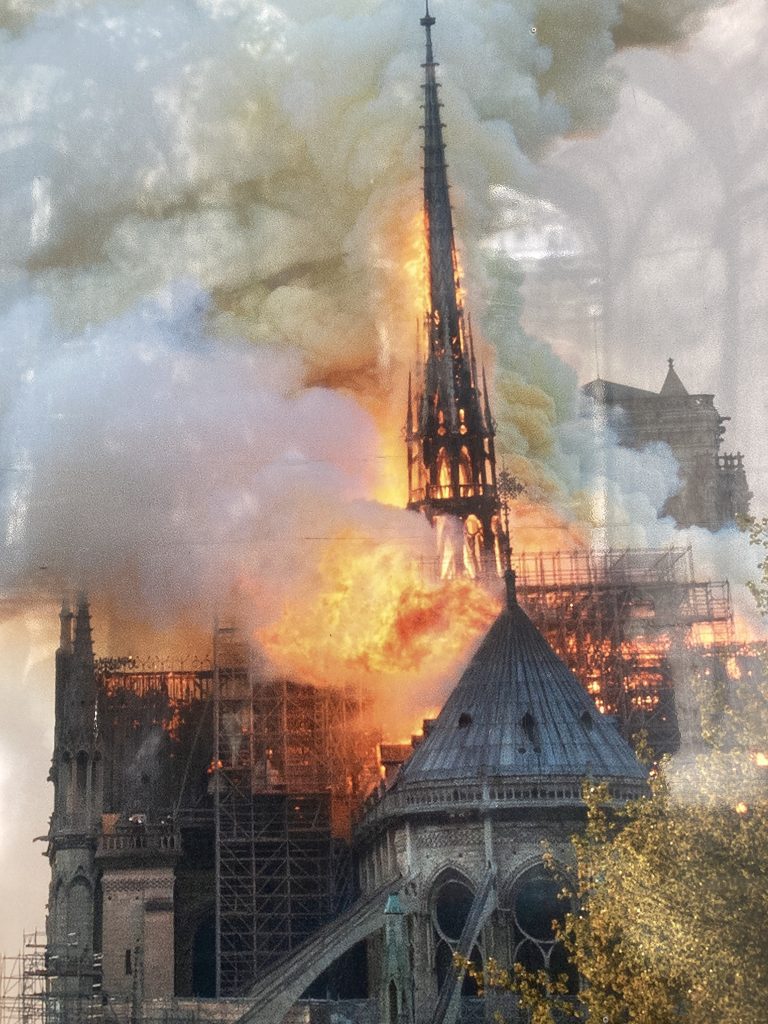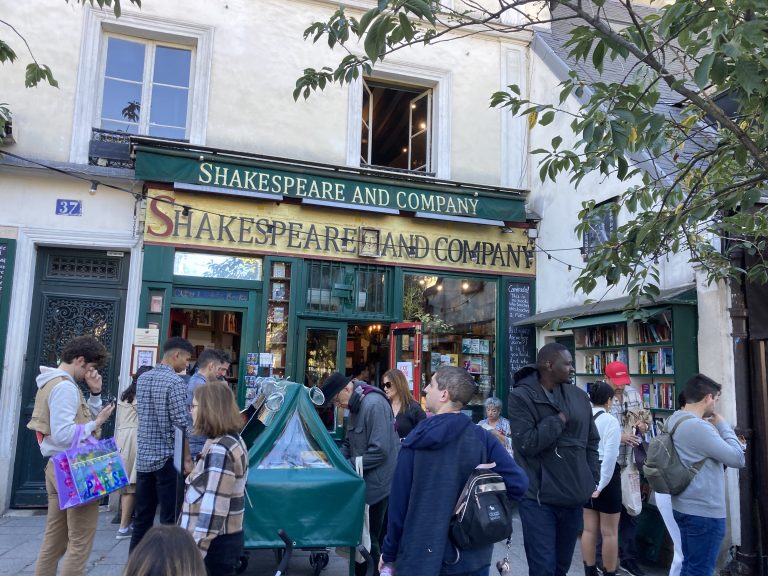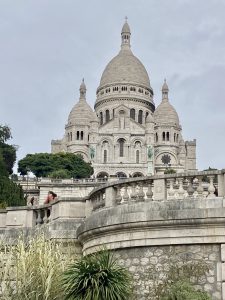 Take a Free Walking Tour
There may be no free lunch, but Discover Walks offer free walking tours of various parts of Paris. I have toured Montmartre, from the Moulin Rouge to Sacre Coeur. I also learned a lot about the trendy Marais area, including where Victor Hugo lived on the Place de Vosges. Although Notre Dame is still closed after a devastating fire in 2019, the Left Bank, Notre Dame and Latin Quarter tour taught me much about the cathedral's iconic gothic architecture, showed me the location of Shakespeare and Company, Paris' famous English bookstore and (now) also a coffee shop, and ended at the Pantheon near the Luxemburg Gardens.  Book online and meet your guide, who wears a pink vest, at the designated time and place. Note: Your guide's income is based on tips, so be generous if you liked the tour. 
Le Petit Pontoise
I always book dinner at Le Petit Pontoise (9, rue de Pointoise), a cheery bistro that never tries to be cool or chic. Try their delicious artichoke tart followed by herb-crusted rack of lamb served over roasted vegetables. Other specialties include duck parmentier—a sort of gourmet shepherd's pie consisting of layers of duck confit and mashed potatoes topped with foie gras. But who's counting calories in Paris?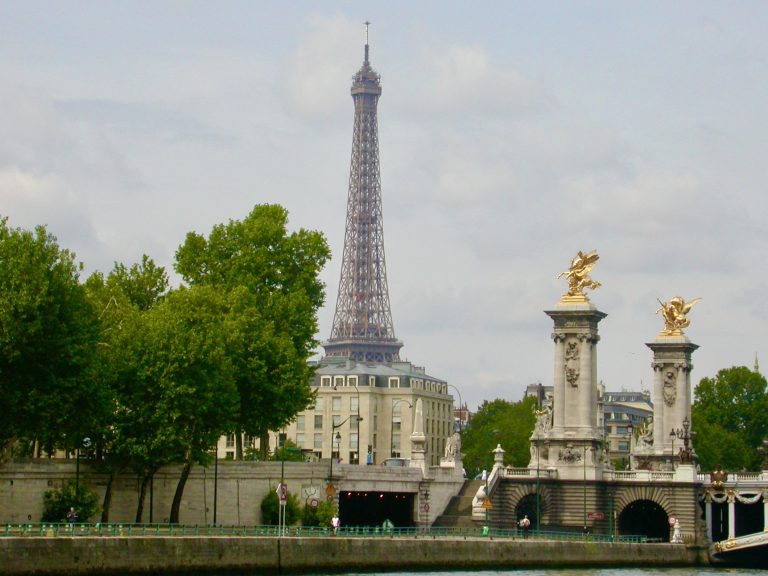 Scenes from the Seine
Embarking from the foot of the Eiffel Tower, a cruise along the Seine aboard Bateaux Parisians offers the ideal way to soak up the major sights. A tape-recorded commentary provides history and anecdotes as the boat floats under Paris' many beautiful bridges, passing the Assembly National, the Musée D'Orsay, the Louvre, Notre Dame cathedral, plenty of joggers and the odd troll who's camped out along the shores, Parisian monuments and architecture seem even more impressive when viewed from the water. The approximate hour-long cruise, €16, also offers new camera angles for avid shutterbugs.
Romancing Rodin
The Rodin Museum gets my vote as the most beautiful in Paris. Start in the park, fragrant in summer with masses of old-fashioned roses. Sit on a wooden bench and admire the master's work. Le Penseur seems to be thinking with every muscle and sinew of his body. Walk around the Burghers of Calais and note the anguished facial expressions. Inside, the 18th century Hôtel Biron houses more masterpieces, including Rodin's pièce de résistance, Le Bazier (The Kiss). Musée Rodin is closed Mondays; admission to park and museum, €13.
Take a Pass
Paris is vast. You'll want to explore its many neighbourhoods on foot, but to get from one end of the city to the other, buy a Paris Visite ticket (3 days €29.40) for unlimited travel on the subway, RER trains and buses in zones one to three. The bus system is well mapped and often preferable to the metro. Wouldn't you rather see more of Paris' streets and less of its tunnels?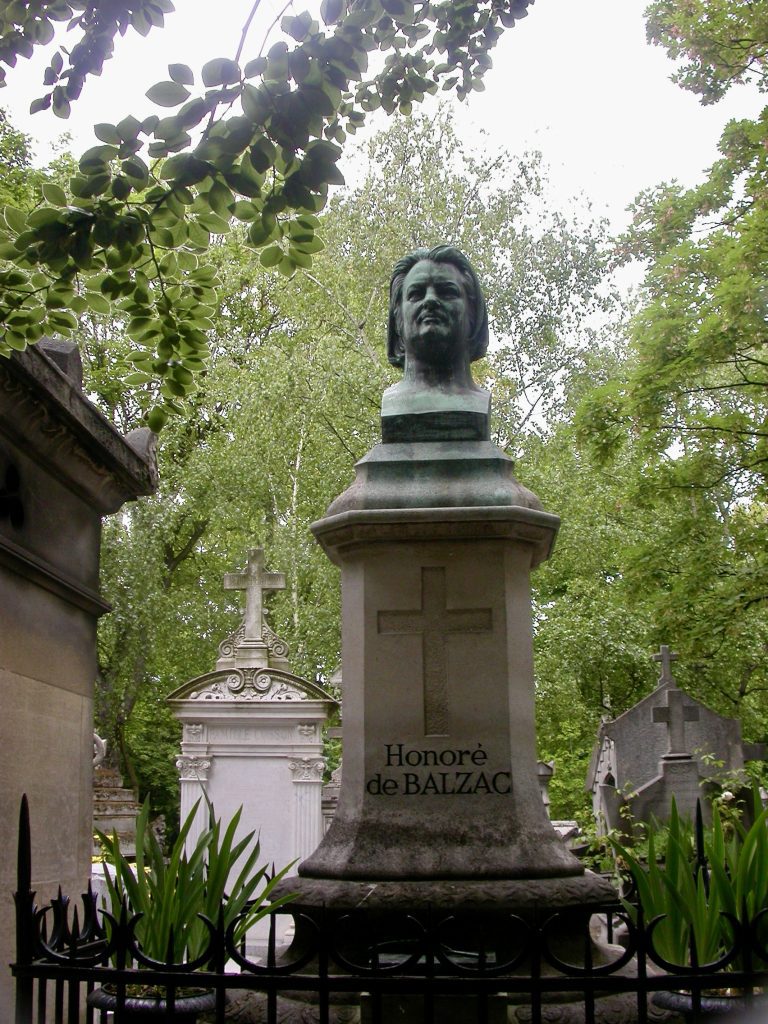 The "You Only Live Once" Splurge List
Café Society
Opened in 1927 La Coupole is an unabashedly brash brasserie in all the best ways. The glamorous Art Deco setting is the ideal spot to dive into a dozen or more oysters or tackle the tiered platter of shellfish. Ernest Hemingway and his literary pals were regulars at this Montparnasse eatery.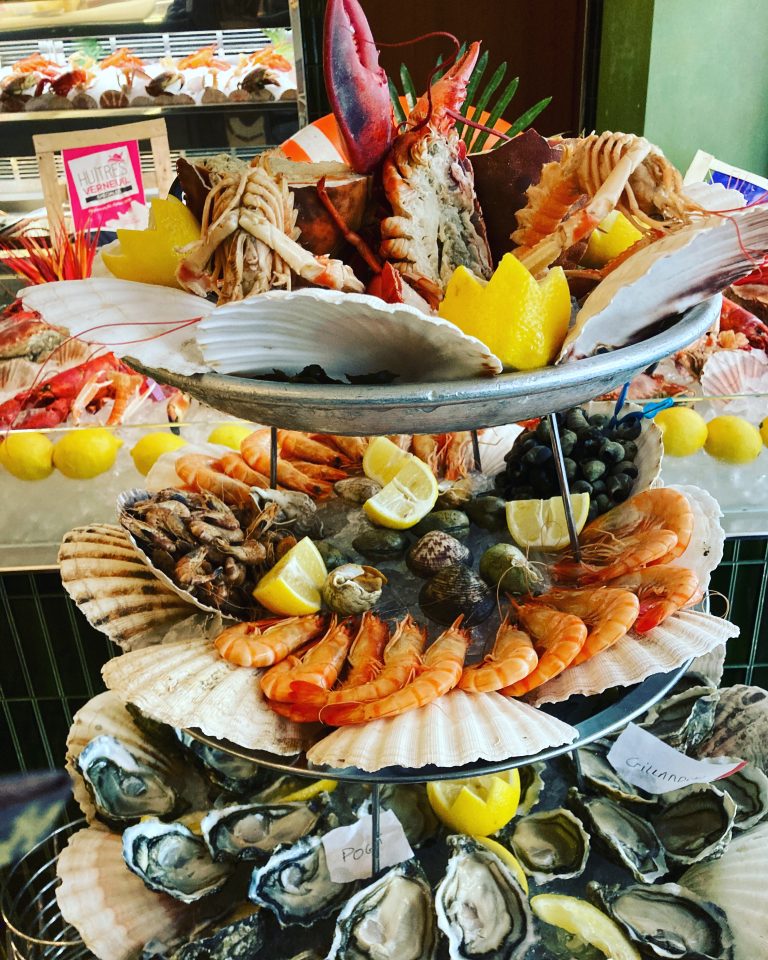 Trace Julia Child's Footsteps 
Eating Europe offers food-walking tours in several European cities. If you were a fan of Julia Child, who co-wrote Mastering the Art of French Cooking, consider the In the Footsteps of the French Chef Food Tour. You will savour decadent eclairs, sample a classic quiche, taste wines and cheeses at Café Flore and see where Julia and hubby Paul lived. Tickets cost €109.
Window Licking
We say window-shopping. The French say lèche vitrines, which literally means window licking. No society creates more delicious displays. Start with a stroll down the fashionable rue Fauberg St. Honoré. At Hermès (number 24) you might be tempted to buy the ultimate French status item, a silk scarf or tie. 
Château Envy
The Château Versailles has been the stuff of legends and movies, but why not visit the Château de Vaux-Le-Vicomte, the estate that inspired Louis IV to build Versailles? 
Its creator, Nicolas Fouquet, was appointed superintendent of finance to King Louis in 1653. Fouquet, who had a flair for hiring genius, brought together architect Louis Le Vau, painter Charles Le Brun and landscape gardener André Le Notre. With a seemingly unlimited budget, the talented trilogy created a palace and gardens of unparalleled beauty and harmony. When the King visited Fouquet's masterpiece, it is said that he was envious and went on the hire Le Notre to create the gardens of Versailles. The audio tour of the Château is entertaining and the gardens are truly magnificent. If time is short, rent a golf cart. To get there, take the RER R train (about 30 minutes) from Gare de Lyon to Melun and take a 10-minute taxi from the Melun station to the Château. Buy tickets on-line.
Eat With Locals
Eat With is a website that offers the opportunity to dine in the homes of Parisians. You can choose from an elegant dinner with wine pairings in Montmartre to taking a soufflé lesson and lunch in in the 17th arrondisement. A couple of years ago I selected "A Cozy French Luxury Dinner" for about, €80.Carla and her husband were the consummate hosts. Their apartment was stylish and Carla was a fantastic cook. Somehow, they managed to orchestrate a gourmet dinner with fine wines and still be on hand to chat and make guests feel like friends. This was a five-star experience for me and four other diners from the U.S. When I return to Paris, I  will try another Eat With experience, sans doute. 
Puttin' on the Ritz
I doubt Hemingway every forked over €40 for a cocktail, but the intimate Bar Hemingway at the Ritz Hotel with its comfy leather armchairs and paneled walls covered with photos and memorabilia from the Nobel Prize-winning author is worth a stroll and a sip down memory lane. Legend has it that in 1944 Hemingway stormed into the hotel and declared he was liberating the Ritz Bar from the Nazis. He rang up a tab for 51 dry martinis. The Bar Hemingway was named in his honour in 1994. Colin Peter Field, head bartender, has been ranked best bartender in the world and the Bar Hemingway the best bar in the world. So splurge!