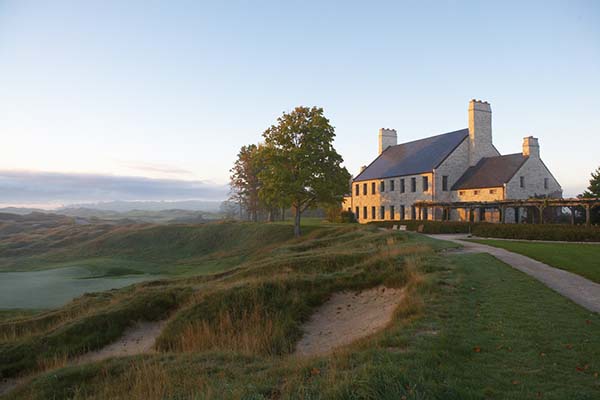 "The ardent golfer would play Mount Everest if somebody would put a flagstick on top…golf is not a fair game so why build a fair golf course."
Those are the "fighting words" of feisty golf architect Pete Dye, a gentleman renowned for his brilliant and challenging golf tracts worldwide.
I am playing Dye's Whistling Straits course in Kohler, Wisconsin, host of the 2020 Ryder Cup and the first public course to host this event in 29 years.
In this case, Dye put 18 flagsticks on 70-foot bluffs rising above Lake Michigan. But it feels like a links course in Ireland. That's exactly what plumbing magnate, Herb Kohler asked Dye to create when he hired him back in 1988.
By the time Pete Dye was done conjuring the flat landscape, employing forty years of cunning and experience, an armada of earth movers, and 13,000 truckloads of sand imported from area farms, his masterpiece was still above the shores of Lake Michigan, but it looked as if it were perched on top of the Irish Sea.  
To enhance the Eire illusion, Kohler imported a flock of blackface sheep that roam the golf grounds along the lakeshore, He also decreed the course would be walking only—carts would be about as welcome on property as waterfalls, spurting fountains and flowerbeds.  This was meant to be the antithesis of a typically cushy resort course. 
"He told me he wanted a walking course, and I thought he was crazy," recalls Dye. But Kohler turned out to be trendsetter for North American courses (Bandon Dunes and Cabot Cliffs, for example).
Kohler when walking the lakeside landscape in ultra-blustery conditions during construction, noted that the wind was whistling through the bluffs, with whitecaps breaking on the rocky shoreline, or straits, of the lake—hence the name Whistling Straits.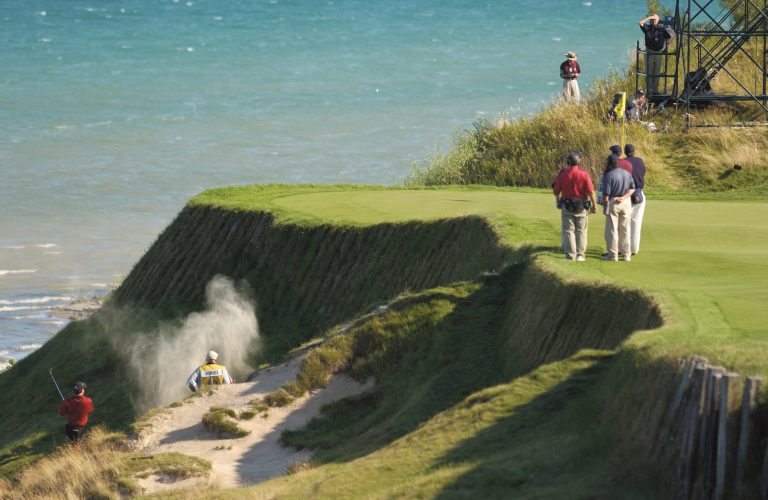 "Dye-r" Straits
So here I am, trudging along the bluffs with my caddie, Andrew, a gust of wind sending my visor airborne, trying to do battle with Whistling Straits, 
At first glance it appears Whistling Straits is as much sand as it is grass. With more than 1,000 bunkers, the first-time player will wonder where to aim. Noted architecture critic Ron Whitten commented that the bunkers are "scattered about like laundry in the aftermath of a tornado." 
Bunkers and wind are two good reasons why you need a caddie. 
Dye refuses to single out a signature hole at Whistling Straits. Number seven, called Shipwreck is a memorable par-three overhanging the shoreline and protected by several bunkers. After putting three balls in the water, John Daly threw his iron into the Lake. Playing 645 yards from the tips, the par-five eleventh, Sand Box, will tempt you to pull out the driver but with fairway-lined bunkers, your aim had better be accurate. Dye's wife, Alice, purportedly designed Pinched Nerve, a brutal par-three where chances are excellent that either bunkers or the lake will gobble up your Titleist. There's no reprieve on the 18th, aptly named Dyeabolical. Even though the approach is downhill on this par-four, the hole demands a forced carry over Seven Mile Creek, usually accompanied by swirling winds.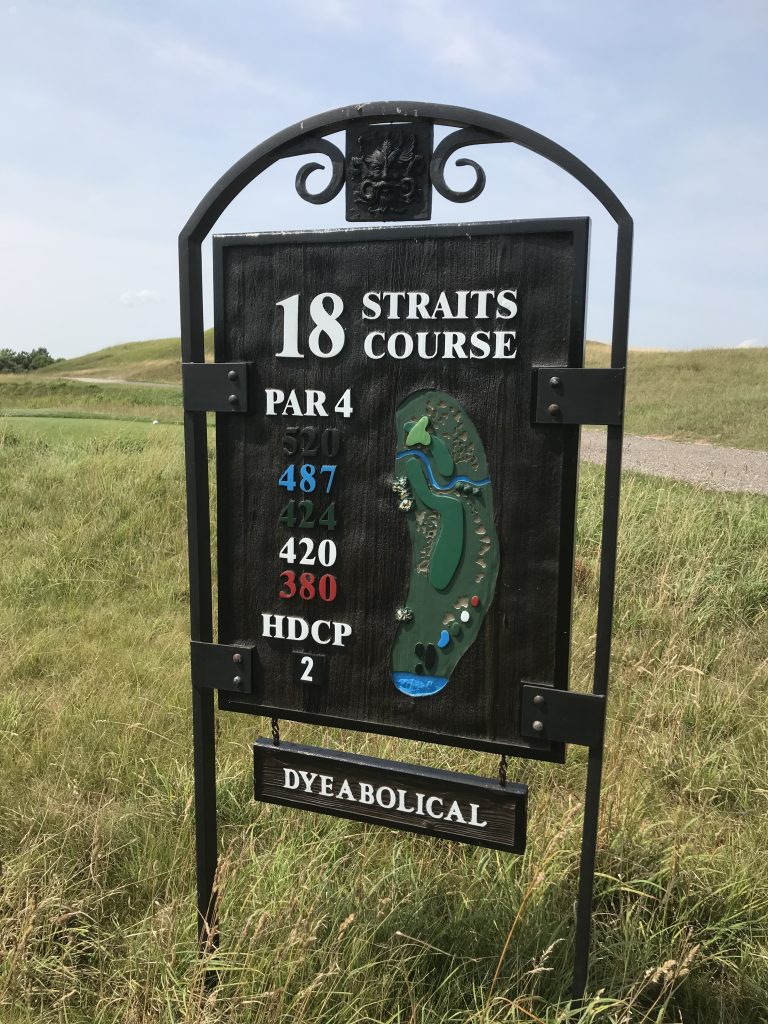 Back in the clubhouse I find myself in need of some liquid refreshment. A frosty Spotted Cow craft beer provides some solace to the triple digit score. The state of Wisconsin, known as "America's Dairyland," is famous for dairy products, especially cheese. 
But Wisconsin is also home to the Kohler Company and most of us are familiar with their brand of toilets, tubs, sinks and faucets. In fact, Whistling Straits, near the Village of Kohler, is but one of four golf courses and myriad attractions located in what is called Destination Kohler. These include two more Dye-designed courses at Blackwolf Run, a spa, tennis courts, trap shooting, fly-fishing and a bunch of boutiques. There's something here for everyone, including non-swingers.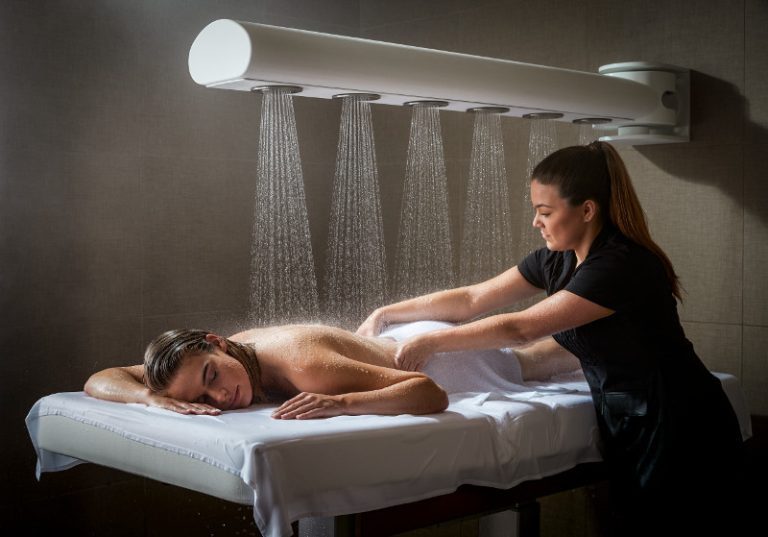 The Multi "Fauceted" World of Kohler
It all began back in 1872 when Austrian immigrant John Michael Kohler built a factory that made farm implements near Sheboygan, Wisconsin. In 1883, an enameled cast iron hog scalder water trough was sold as a bathtub—Kohler's first plumbing product.  Kohler eventually needed to recruit immigrants from various countries abroad to work in his factory.  
By 1918, his son, Walter Kohler, who believed that "a worker deserves not only wages but roses as well," undertook an ambitious project to house these immigrants. For a fee of just $27.50 per month, his men received a private room, laundry services, a bowling alley, pub and barbershop. In the spirit of patriotism, the American Club, as it was named, also offered lessons in American citizenship and English language. 
Decades later when the American Club had outlived its original purpose, Herbert V. Kohler Jr.  (John Michael's grandson) conceived the idea of turning it into an elegant village inn. In 1981 the American icon was reborn as the world-class Destination Kohler complete with hotel rooms, restaurants, shops, spa, tennis, trap shooting, fly-fishing and four award-winning championship golf courses. Recently Golf Digest named all four of the Pete Dye-designed golf courses (two at Whistling Straits and two at Blackwolf Run) to its list of the Top 100 Public Courses.
I take the shuttle from Whistling Straits back to the Village of Kohler and after checking into my room at The American Club, I head downstairs to the Immigrant Restaurant, housed in what was the laundry room back in the 1800s. Mr. Kohler believed in giving his employees a safe, clean, comfortable environment and feeding them well. His only rule: "Clean your plate."
Far from basic boardinghouse fare, today's menu offerings at the AAA four-star dining room are upscale and downright decadent. My torchon of foie gras is liberally laced with shavings of black truffles. The Wagu beef barely requires a knife to cut it. And the sommelier cautions me to leave room for a mind-boggling selection of Wisconsin cheeses. 
The Immigrant Restaurant is one of nine dining establishments spread around Destination Kohler. The following morning I fortify myself with a buffet breakfast in the Wisconsin Room and hop the 25-minute shuttle past cornfields and contented cows back to Whistling Straits. After The Straits course opened in 1998, Herb Kohler commissioned Pete Dye to design a second links-style tract, The Irish, in 2000. Located just inland from Lake Michigan and the shore-hugging Straits, The Irish features grassland, slightly less imposing dunes and four meandering streams. Although it's a bit easier on the ego than Straits, The Irish is no walk in the park. Water hazards come into play on ten holes. There's no lack of bunkers either, especially on Mulligan's Watch (number six) with its "island" green surround by a humongous bunch of sand.  You may forego a caddie and take a cart on The Irish, but for the ultimate experience, I suggest you walk it with someone shouldering the bag who might knock some numbers off your scorecard. 
Another suggestion: after walking 36 holes, do your body a favour and book a massage at the Kohler Water Spa, then chill out under the waterfall in the indoor swimming pool.
Just a block or so from the American Club, visitors can check out the Kohler Design Center featuring the company's latest innovative kitchen and bath designs. The lower level houses a Heritage Museum where you learn about how the company started and where it's going. For example, its Water Mission project helps supply clean water to Haiti and other hurricane-ravaged countries. And those sleek tiles you see in "The Bold Look of Kohler" ads are made from recycled toilet bowl dust.
Beyond plumbing, the Kohler Company continues to innovate and expand. It now owns The Old Course Hotel and The Duke's golf course, both in St. Andrews, Scotland.
Head out to Whistling Straits and discover for yourself what all the fuss is about.  As Pete Dye says, "I should say this with some degree of modesty. In my lifetime I've never seen anything like this. Anyplace, period."